Ladies and Gentlemen! Here are all Infos and Pre-Order Links of our upcoming new album "Diamonds Unlocked II !!!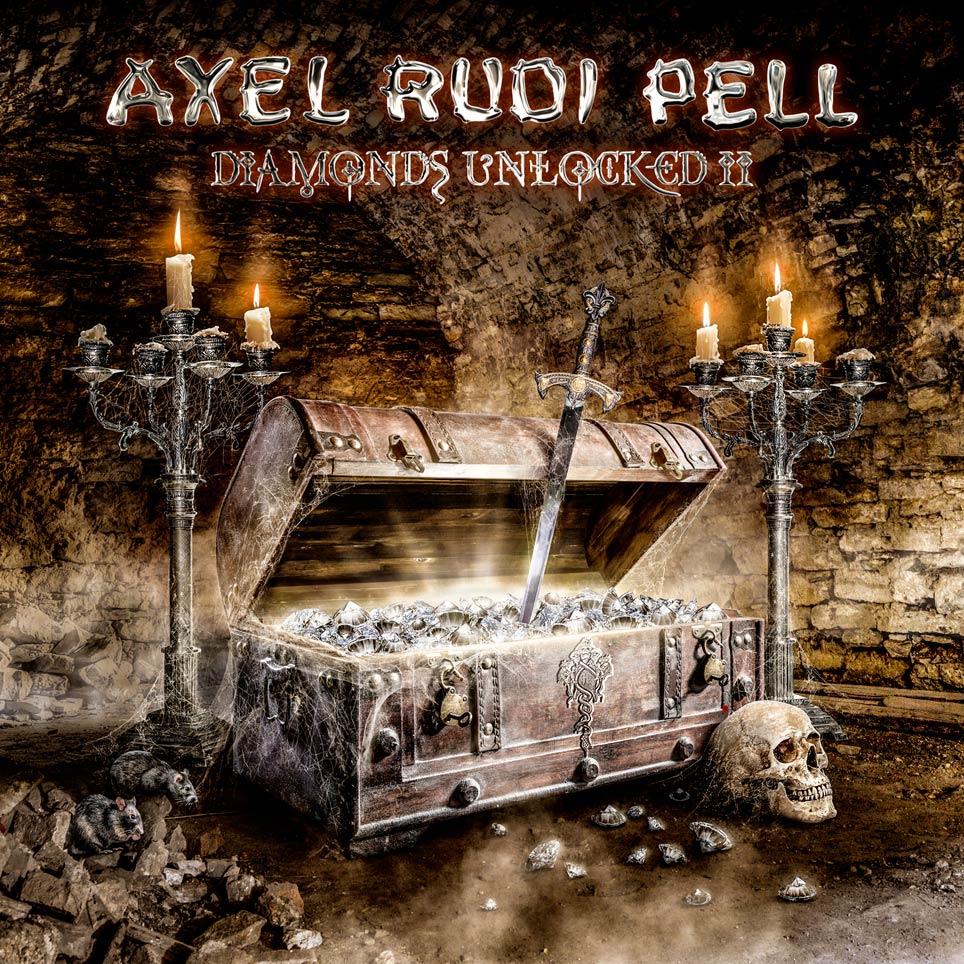 Tracklisting:
1. Der Schwarze Abt (Intro) 2:03
2. There's Only One Way To Rock 4:26 (original by Sammy Hagar)
3. Lady Of The Lake 5:17 (original by Rainbow)
4. She's A Lady 4:04 (original by Paul Anka)
5. Black Cat Woman 4:25 (original by Geordie)
6. Room With A View 4:12 (original by Tony Carey)
7. Sarah (You Take My Breath Away) 4:51 (original by Chris Norman)
8. Rock N' Roll Queen 3:19 (original by The Subways)
9. Paint It Black 6:03 (original by the Rolling Stones)
10. I Put A Spell On You 4:24 (original by Screamin' Jay Hawkins)
11. Eagle 6:53 (original by Abba)    
"Diamonds Unlocked II" will be released on July 30th, 2021 through SPV/Steamhammer in the following configurations:
DigiPak incl. poster
2 LP Gatefold, 140 g, black vinyl, printed inner sleeves
Download / Streaming
Pre-Order Link: smarturl.it/ARPDiamondsUnlocked
2 LP Gatefold exclusive coloured editions only at the Napalm shop
Pre-Order Link: https://napalmrecords.com/english/axel-rudi-pell
Exclusive CD/LP Bundle with a T-shirt only at the Steamhammer shop
Pre-Order Link:  https://shop.steamhammer.de/artists/axel-rudi-pell/store
The Cover artwork was done by www.facebook.com/thomasewerhardartwork
Endgültige Tourverschiebung auf 2022!
(scroll down for english language)
Leider werden "normale" Rock Shows, so wie wir sie kennen und lieben, auch im Herbst diesen Jahres, aufgrund der immer noch vorhandenen Pandemie, weiterhin nicht möglich sein. Deshalb sehen auch wir uns leider gezwungen, sämtliche Termine auf 2022 zu verschieben. Es tut uns wirklich sehr Leid, denn auch uns gefällt das gar nicht! Sämtliche bereits gekauften Tickets behalten selbstverständlich ihre Gültigkeit! Für die Tickets der Shows in der Bochumer Zeche gelten folgende Regeln:
10.05.20, verlegt auf den 02.05.21, verlegt auf den 08.05.2022
23.05.20, verlegt auf den 14.10.20, verlegt auf den 15.09.21 und jetzt nochmal verlegt auf den 07.09.2022
01.11.20, verlegt auf den 03.10.2021 und jetzt nochmal verlegt auf den 25.09.2022
Unfortunately, "normal" rock shows as we all know and love, will still not be possible in autumn this year due to the still existing pandemic. That is why we are unfortunately forced to postpone all dates to 2022. We're really sorry, because we don't like it either! All tickets that have already been purchased will of course remain valid! The following rules apply to the tickets for the shows in the Bochumer Zeche:
May 10, 2020, moved to May 2, 21, moved to May 8, 2022
May 23, 2020, moved to 10/14/20, moved to 9/15/21 and now moved again to 9/7/2022
November 1st, 2020, moved to October 3rd, 2021 and now moved again to September 25th, 2022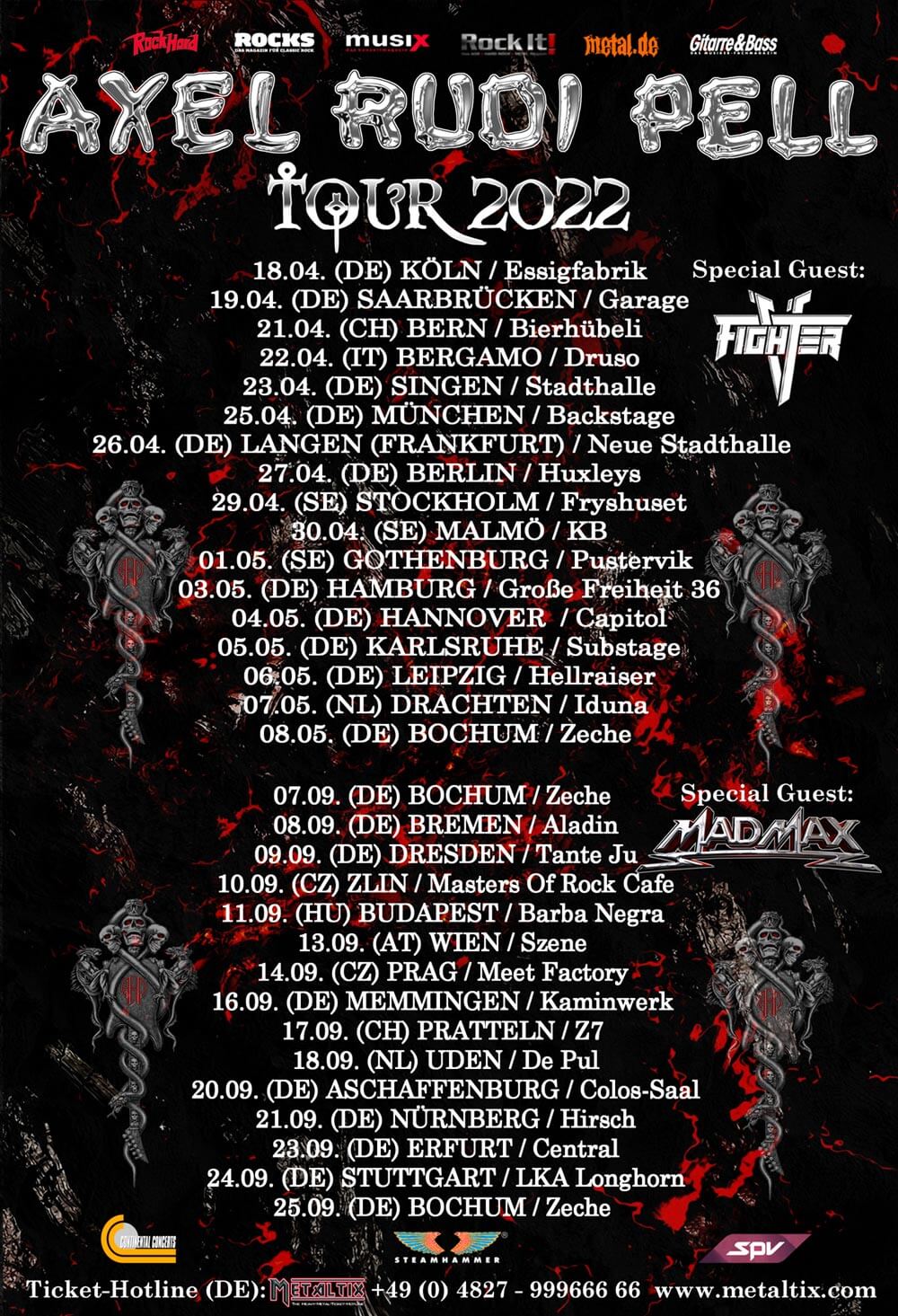 We're sorry… again!
Due to the ongoing worldwide Virus situation, we have to re-schedule our Spring 2021 tour to Spring 2022! See the new dates here! All already bought tickets will remain valid ! Let´s hope and pray that we´ll be able to play our shows in this fall, but who knows… The tickets for the show in Bochum – Zeche, originally planned for May 10th 2020, then moved to May 2nd 2021, will be valid for the show on May 8th 2022. Stay healthy!
Aufgrund der anhaltenden Virus Situation, müssen wir leider unsere für den Frühling 2021 geplanten Shows erneut verlegen, auf das Frühjahr 2022! Die neuen Daten seht ihr hier! Alle bereits gekauften Tickets behalten ihre Gültigkeit! Wir hoffen, dass wir in diesem Jahr wenigstens noch unsere geplante Herbst Tour spielen können, aber wer weiß das schon… Die bereits gekauften Tickets für die Show in Bochum – Zeche, ursprünglich geplant für den 10. Mai 2020, dann verlegt auf den 02. Mai 2021, behalten ihre Gültigkeit für die Show am 8. Mai 2022! Bleibt gesund!