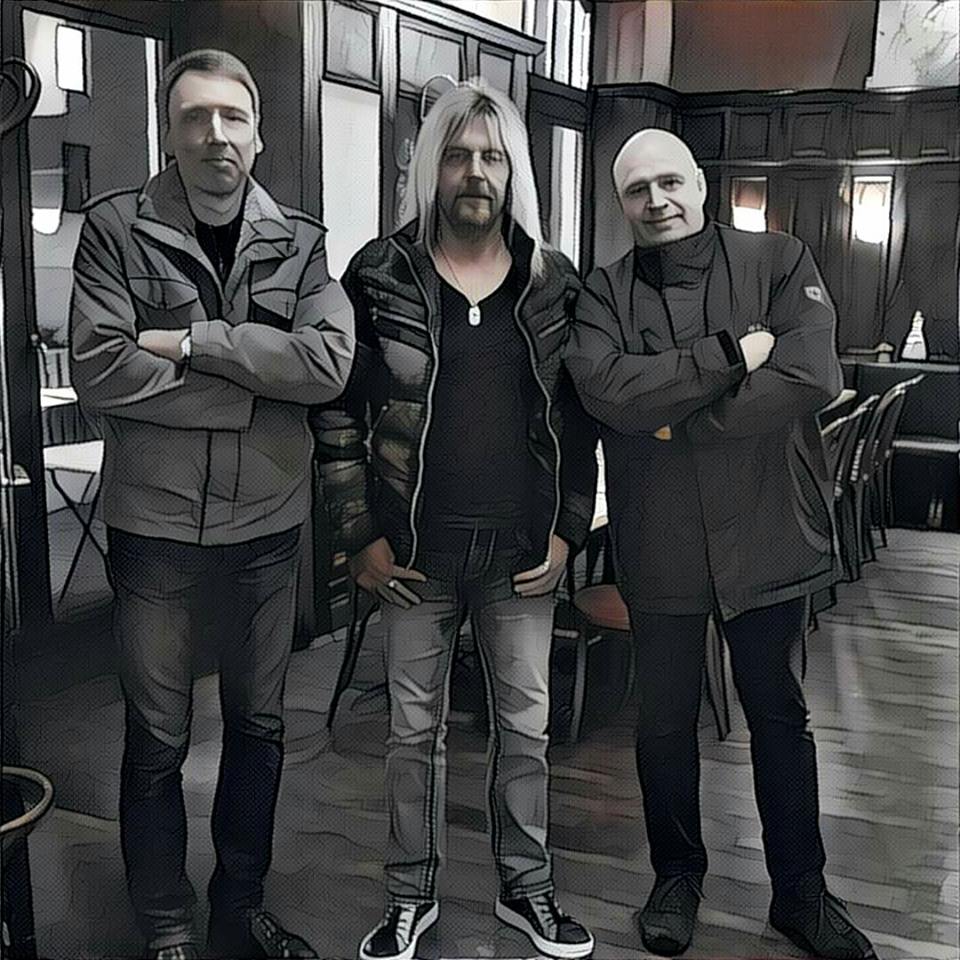 New Contract with SPV !
Axel just signed another contract with his longtime record company Steamhammer / SPV !
"I'm very happy that we will continue our long work and friendship and looking forward to gain even more success together !"
On the picture LTR: Frank Uhle (SPV, Managing Director), Axel, Olly Hahn (SPV, A&R Steamhammer / Product Manager International)

Thanks to all who came and saw us rockin´at the Summer Festivals, we had a blast !!!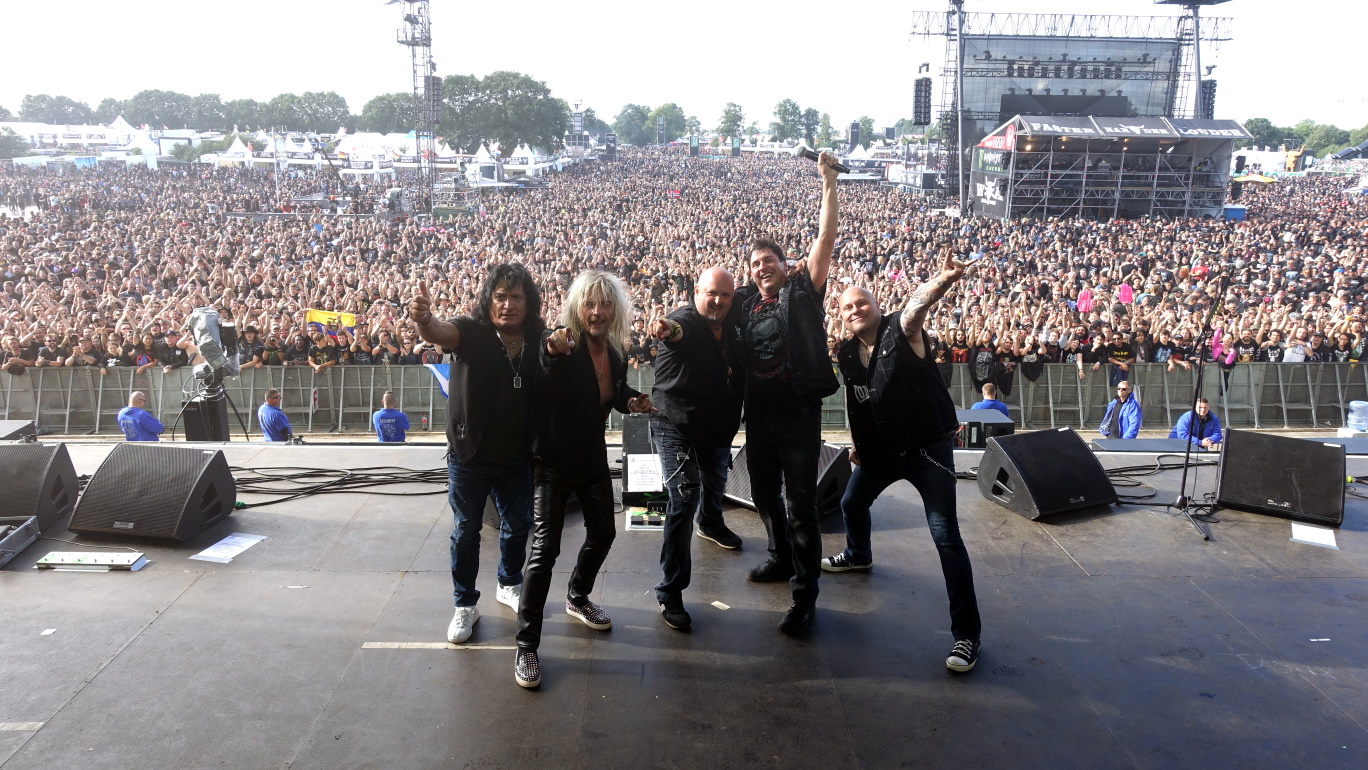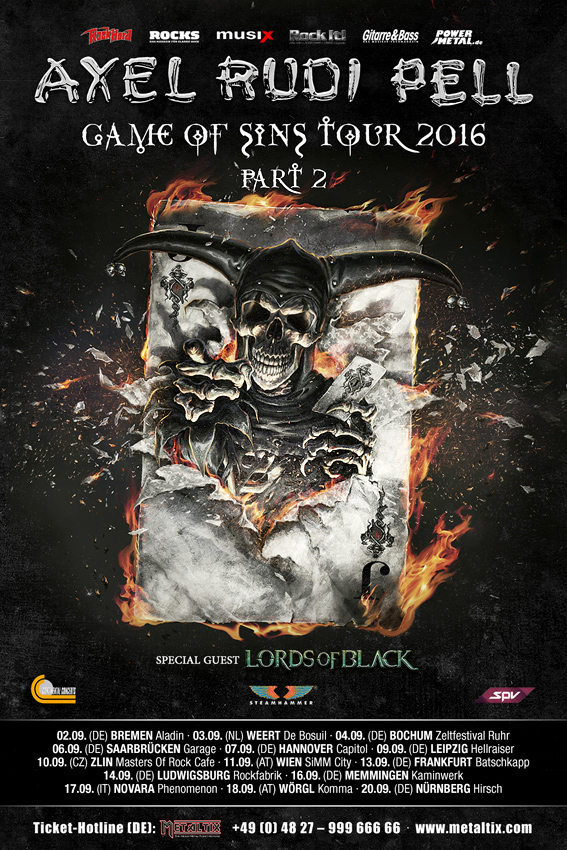 Upcoming shows:
July 2nd – Kavarna Rock Fest – Kavarna, Bulgaria
July 29th – Rock Of Ages Festival – Seebronn, Germany
July 30th – Pyraser Classic Rock Night – Pyras, Germany
August 5th – Wacken Open Air – Wacken, Germany
Headlining Tour in September! Special Guest: Lords of Black

NEW stuff for all VINYL Lovers !!!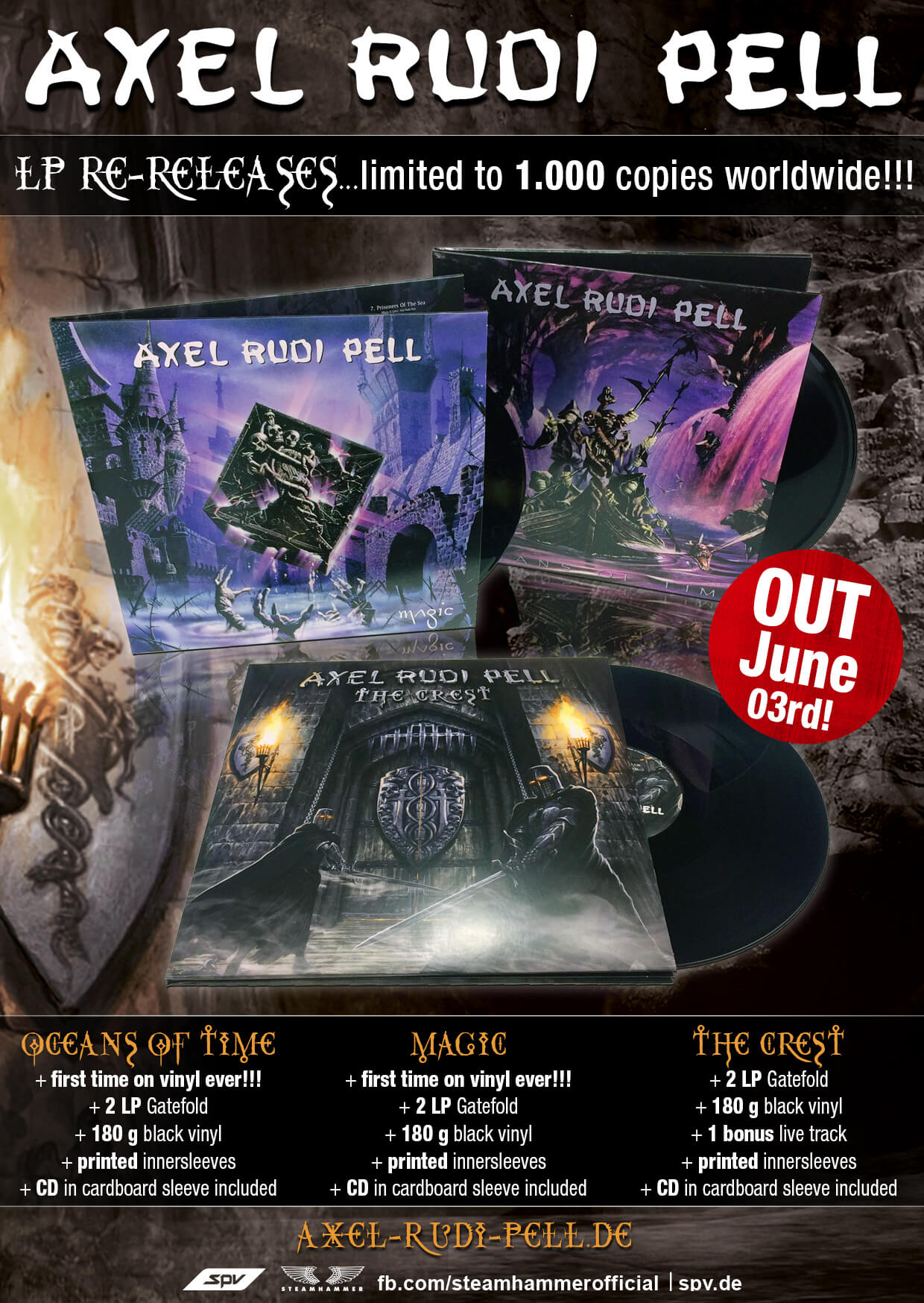 WICHTIG: TOUR TERMINÄNDERUNG !!!
Axel an Virusgrippe erkrankt, die ersten Termine der April Tour sind um ein paar Tage verschoben worden !!!
"Ich habe mir leider einen fetten und hartnäckigen Virusinfekt eingefangen und werde leider nicht rechtzeitig zum geplanten Tourstart am 01. April wieder fit sein. Um aber keine Shows ausfallen zu lassen, hat meine Konzertagentur Continental Concerts es geschafft, einige Daten nach hinten in den April legen zu können. Lediglich unser Konzert im Nürnberger "Hirsch" musste auf den September verschoben werden. Sorry…"
Alle bereits gekauften Tickets behalten natürlich ihre Gültigkeit ! Wer nun leider nicht zu den neuen Terminen kann: Alle gekauften Tickets können auch  an den bekannten Vorverkaufsstellen zurückgegeben werden.
AXEL recovering from Influenza Flu, announcing NEW rescheduled German Tour dates !
"Unfortunately I caught a very strong Influenza Virus and I will not recover till the scheduled Tour start on April 1st. Luckily Continental Concerts could change some dates, so that we can play all planned shows in April with the exception of Nürnberg, which had to be postponed to September due to logistical reasons. Sorry…"
All tickets are still valid, but may also be returned, if you can´t make it to the new dates !
Hier nun alle Termine, Änderungen sind mit NEU gekennzeichnet:
APRIL
08th (DE) OSNABRÜCK / Hyde Park
09th (BE) VOSSELAAR / Biebob
10th (NL) ZWOLLE / Hedon
12th (DE) KÖLN / Live Music Hall
13th (DE) ASCHAFFENBURG / Colos-Saal
15th (DE) ERFURT / Stadtgarten
16th (CH) PRATTELN / Z7
17th (CH) PRATTELN / Z7
18th (DE) MÜNCHEN / Backstage – NEU
19th (DE) BERLIN / Huxleys – NEU
20th (DE) KARLSRUHE / Substage – NEU
22nd (DE) HAMBURG / Grosse Freiheit 36 – NEU
SEPTEMBER
02nd (DE) BREMEN / Aladin
03rd (NL) WEERT / De Bosuil
04th (DE) BOCHUM / Zeltfestival Ruhr,
06th (DE) SAARBRÜCKEN / Garage
07th (DE) HANNOVER / Capitol
09th(DE) LEIPZIG / Hellraiser
10th (CZ) ZLIN / Masters Of Rock Cafe
11th (AT) VIENNA / SiMM City
13th (DE) FRANKFURT / Batschkapp
14th (DE) LUDWIGSBURG / Rockfabrik
16th (DE) MEMMINGEN / Kaminwerk
17th (IT) NOVARA / Phenomenon
18th (AT) WÖRGL / Komma
20th (DE) NÜRNBERG / Hirsch – NEU
FESTIVAL SHOWS:
JULY
29th (DE) SEEBRONN  /  Rock Of Ages Festival
30th (DE) PYRAS  /  Pyraser Classsic Rock Night
AUGUST
4th-6th (DE) WACKEN / Wacken Open Air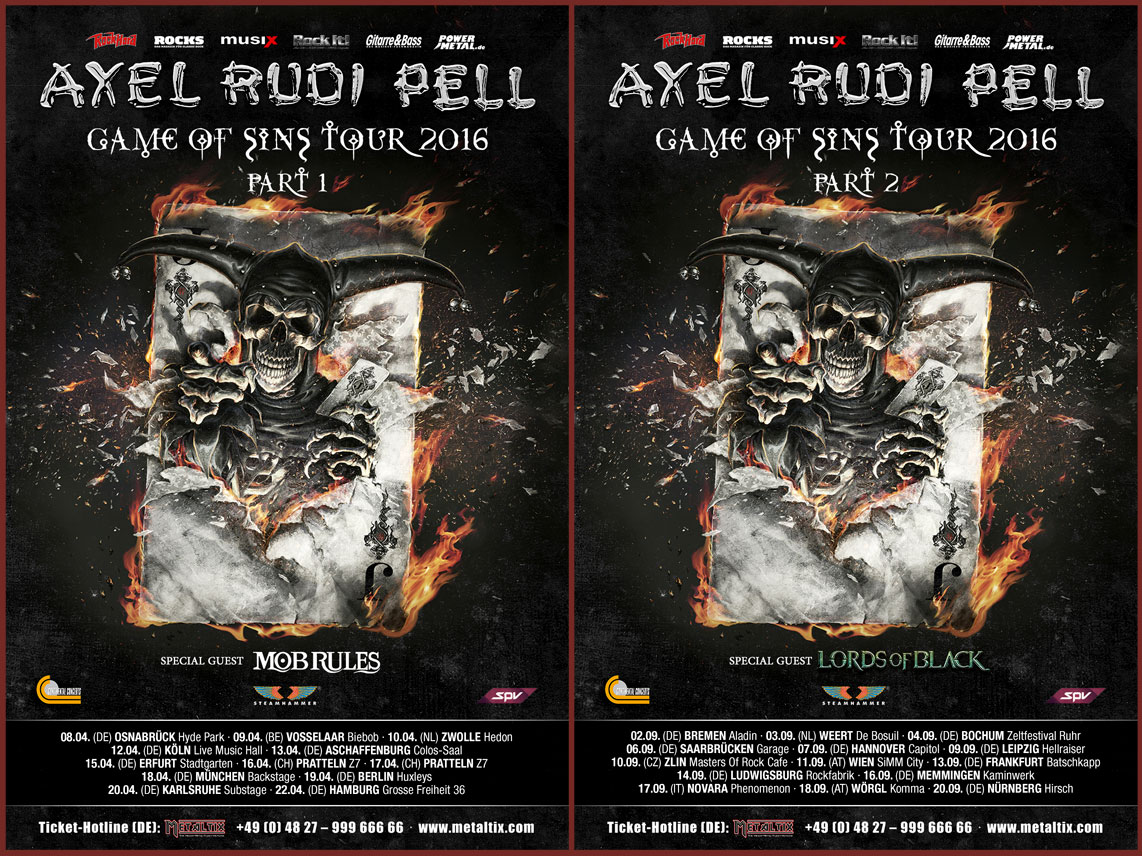 All Chart entries of GAME OF SINS in the first week of it´s release:
# 3 Deutschland – Megacharts Rock
# 6 Deutschland – Megacharts Artist
# 9 Deutschland – Media Markt / Saturn Charts
# 10 Switzerland – Album Charts
# 11 Deutschland – Album Charts
# 11 UK – Indie Breaker Charts
# 12 Deutschland – Megacharts Album
# 21 Sweden – Hard Rock Charts
# 40 UK – Rock & Metal Charts
# 42 Austria – Album Charts
# 75 Czech Republic – Album Charts
Thanks to everybody for buying it !

PRE – ORDER Links for the new CD "GAME OF SINS".
Out: Europe – Jan. 15th 2016, USA – Jan. 22nd 2016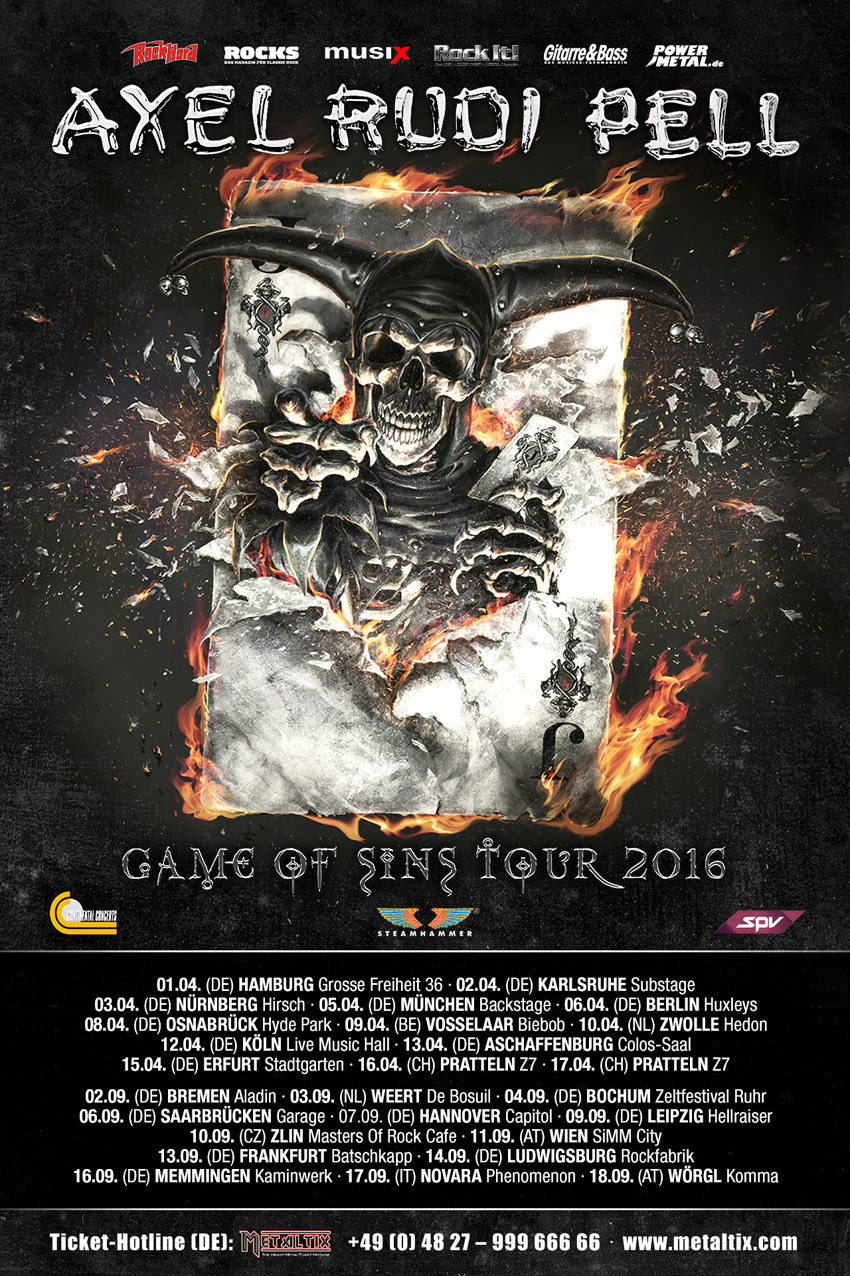 We´re happy to announce the dates for our GAME OF SINS TOUR 2016 !
Get your tickets NOW!
APRIL:
01. – Hamburg (Grosse Freiheit 36) – DE
02. – Karlsruhe (Substage) – DE
03. – Nürnberg (Hirsch) – DE
05. – München (Backstage) – DE
06. – Berlin (Huxley´s) – DE
08. – Osnabrück (Hyde Park) – DE
09. – Vosselaar ( Biebob) – BE
10. – Zwolle (Hedon) – NL
12. – Köln (Live Music Hall) – DE
13. – Aschaffenburg (Colos-Saal) – DE
15. – Erfurt (Stadtgarten) – DE
16. – Pratteln (Z7) – CH
17. – Pratteln (Z7) – CH
JULY:
30. – Pyraser Rock Night – DE
AUGUST:
04. – 06. Wacken Open Air – DE (exact day tba)
SEPTEMBER:
02. – Bremen (Aladin) – DE
03. – Weert (De Bosuil) – NL
04. – Bochum (Zeltfestival Ruhr) – DE
06. – Saarbrücken (Garage) – DE
07. – Hannover (Capitol) – DE
09. – Leipzig (Hellraiser) – DE
10. – Zlin (Masters Of Rock Café) – CZ
11. – Wien (SiMM City) – AT
13. – Frankfurt (Batschkapp) – DE
14. – Ludwigsburg (Rockfabrik) – DE
16. – Memmingen (Kaminwerk) – DE
17. – Novara (Phenomenon) – IT
18. – Wörgl (Komma) – AT