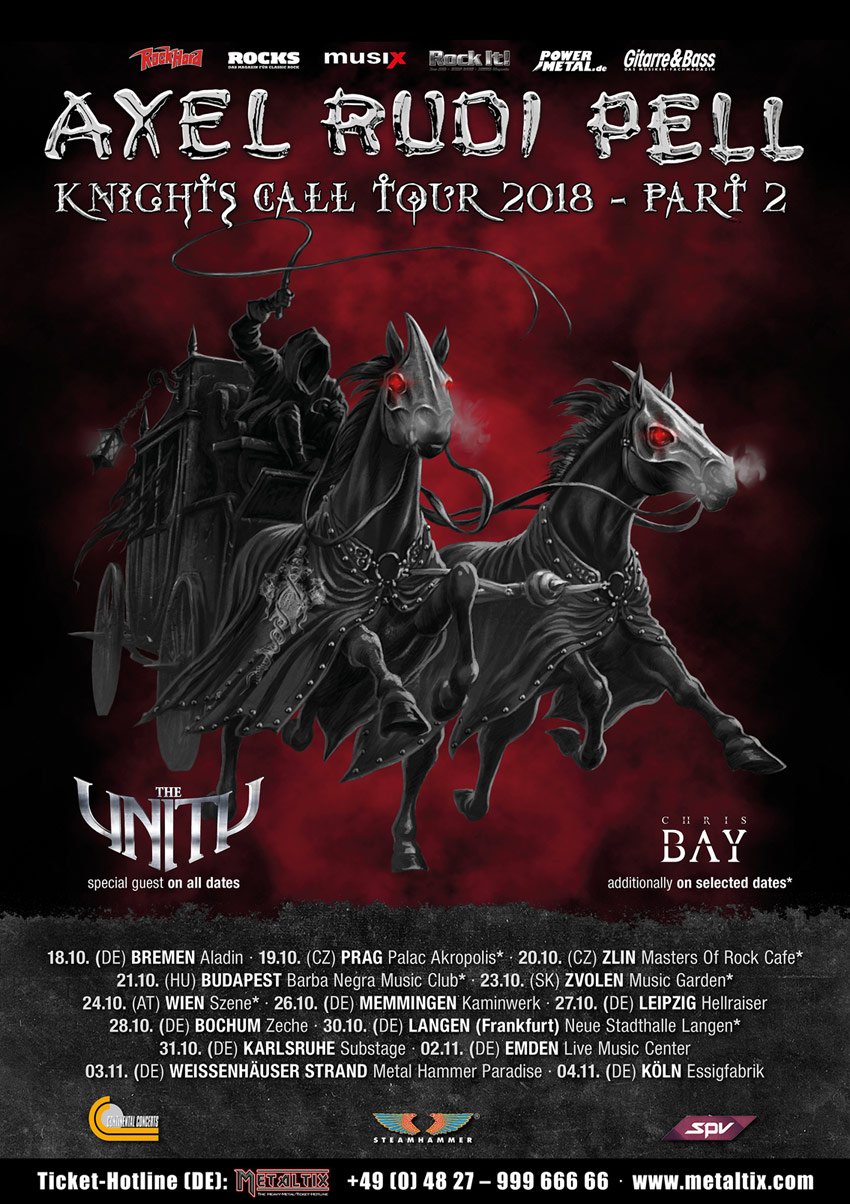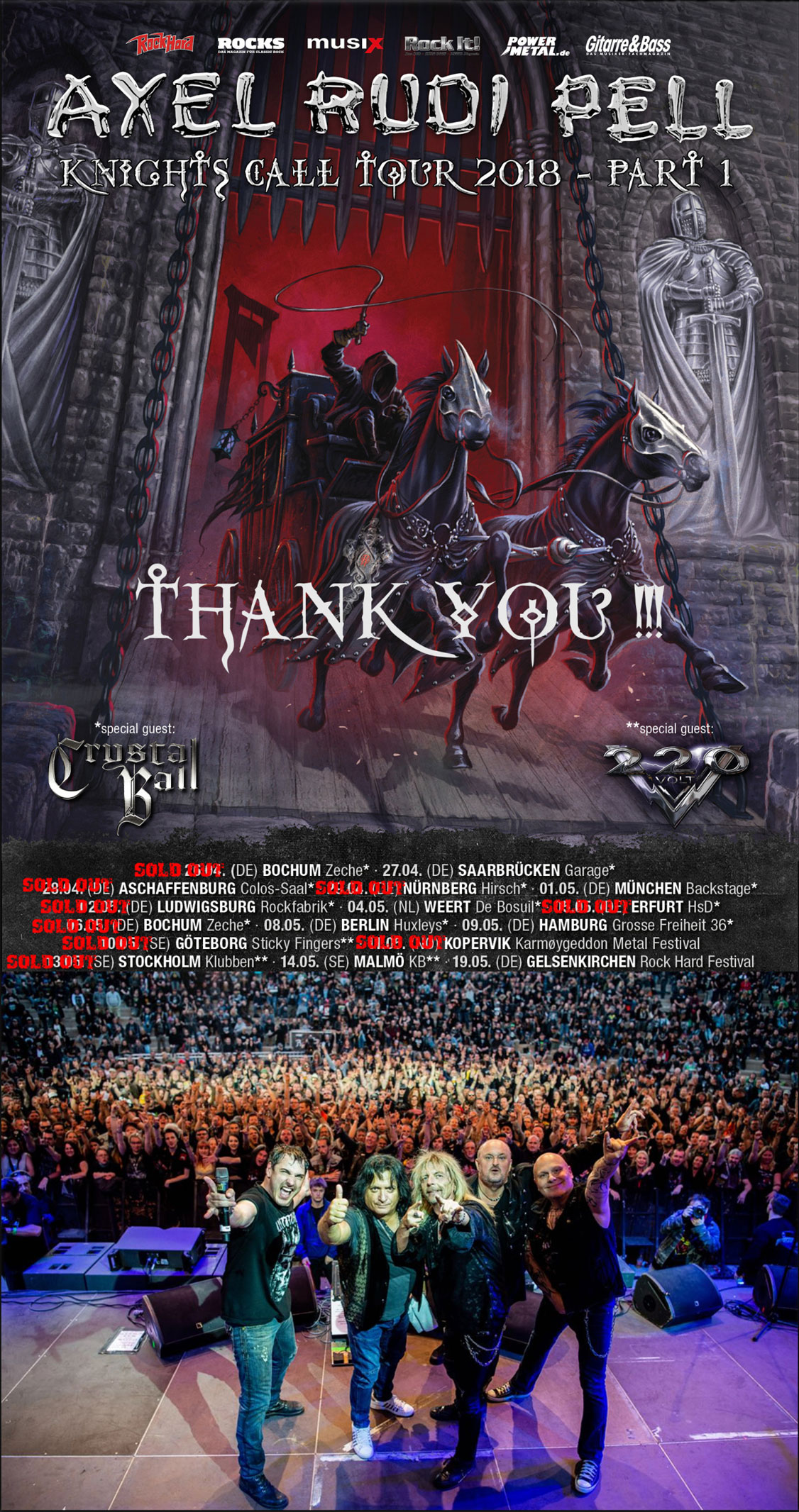 Thank you so much for making this first part of our KNIGHTS CALL Tour so successful with 9 SOLD OUT shows !We had a blast on every show and we hope you liked our ROCKPALAST TV appearance at Rock Hard Festival last night !!!
Our next shows are: June 23 – (PL) Wroclaw – Eleven Bike Festival June 24 – (DE) Burglengenfeld – VAZ July 6 – (ES) Barcelona – Rock Fest July 7 – (CH) Pratteln – Z7 Summer Nights July 8 – (DE) Mönchengladbach – SparkassenPark The Tour will continue in October / November !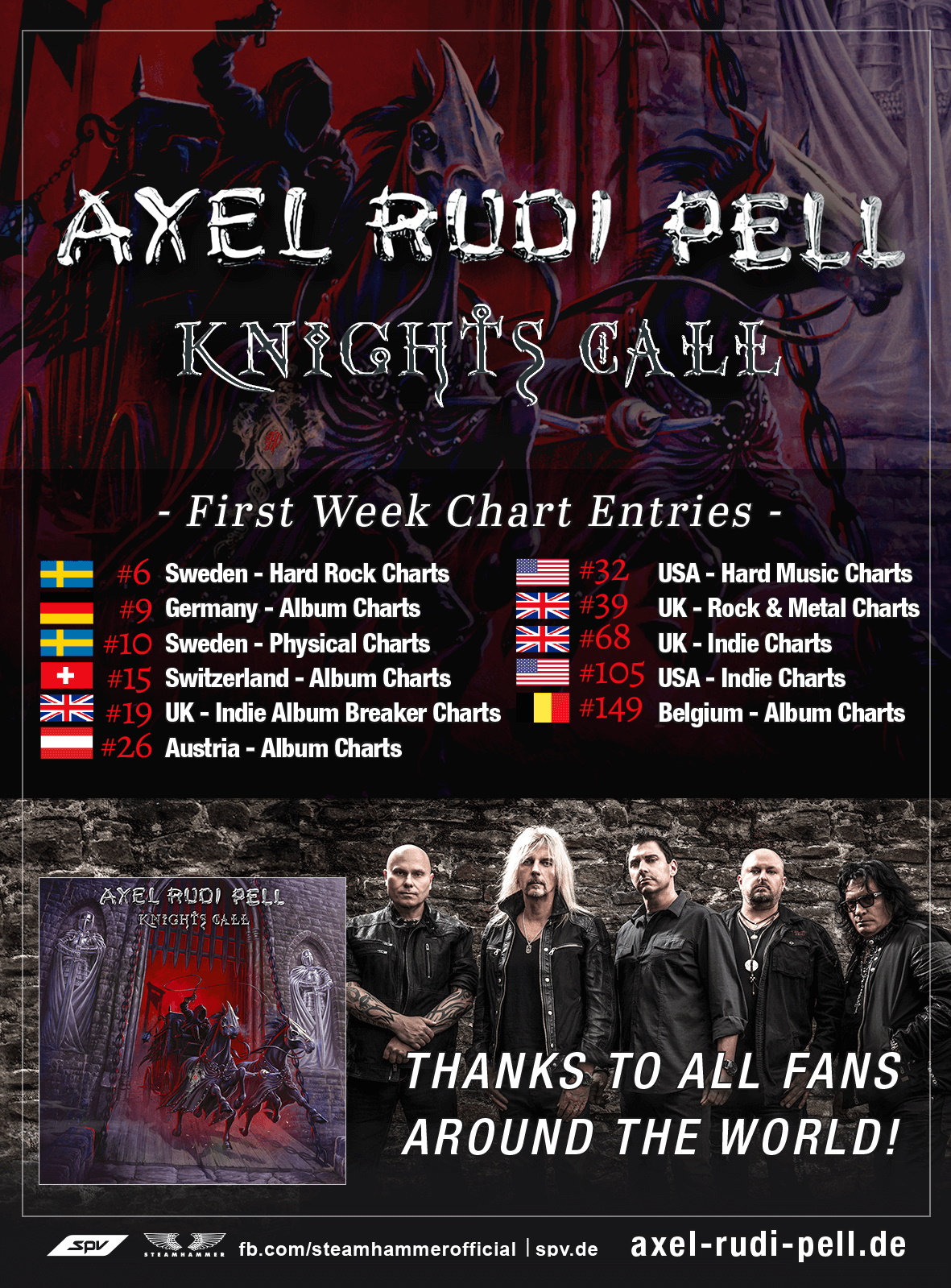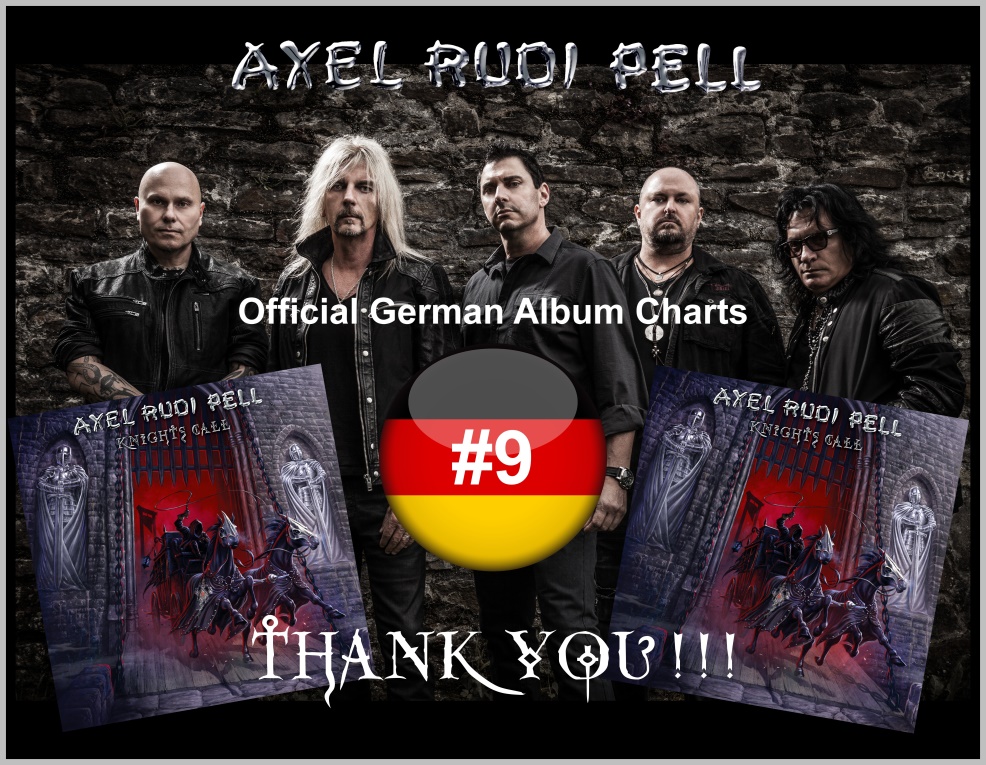 Ladies and Gentlemen ! We proudly announce that KNIGHTS CALL entered the Official German Top 100 Album Charts at # 9 !!! Thank you !!!!!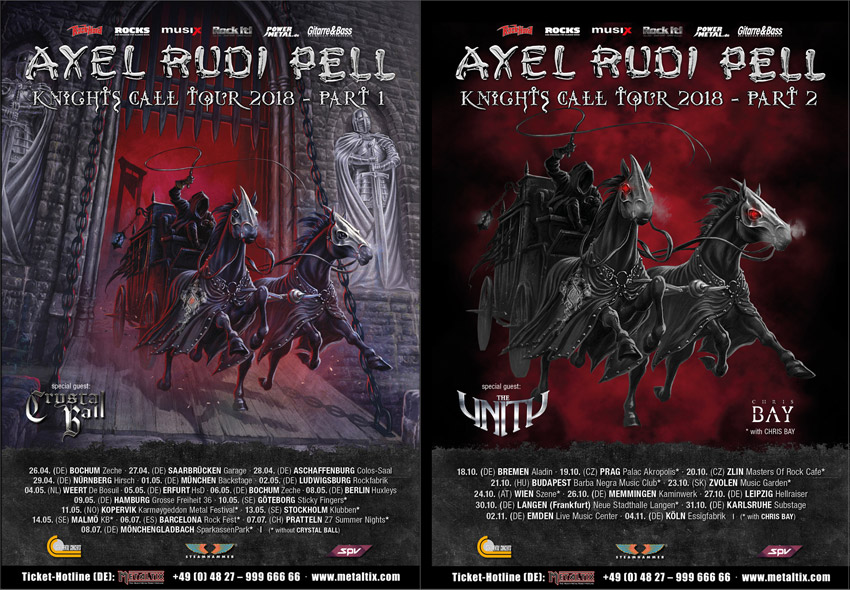 The "Knights Call" Tour continues!
Here are the dates of Part 2… for the very first time we´ll play in Hungary and in Slovakia and of course we added more shows in the Czech Republic, Austria and Germany. We are sure that there will be more dates added during the next weeks/months, so stay tuned! Special Guest on all shows will be "The Unity" (with members of "Gamma Ray") and additionally "Chris Bay" (Freedom Call vocalist) will perform some acoustic songs on selected dates*! The pre-sales just started!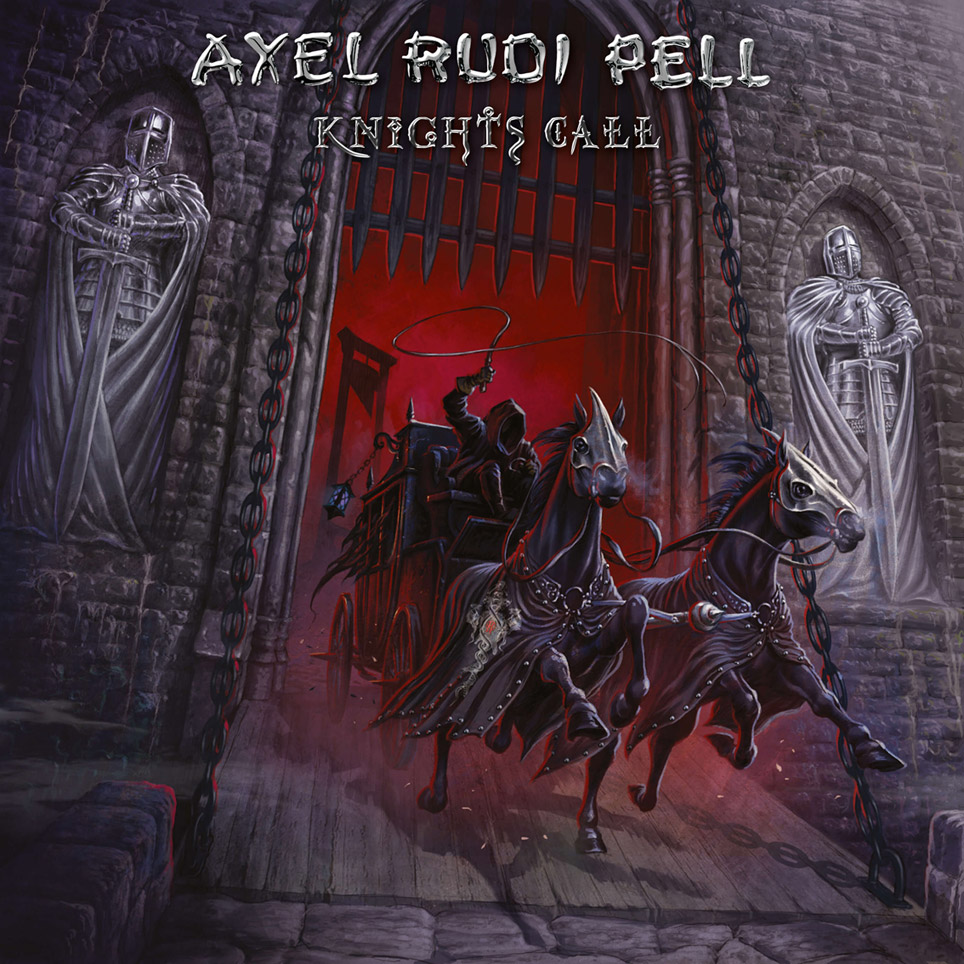 New album KNIGHTS CALL !!!
It will be released worldwide on March 23rd 2018 on Steamhammer / SPV !!! Available as:
Ltd. DigiPak incl. Poster
Jewel Case Clear Tray Edition
2LP Gatefold, 180 g, red vinyl with black swirls, printed inner sleeves, CD in paper sleeve
Ltd Boxset incl.: CD Digi, 2LP, Stainless Steel Skull Beer Mug , A1 Poster, Sticker, Photocard, Patch (Europe only)
Download
Streaming
Tracklisting:
THE MEDIEVAL OVERTURE (INTRO) – 01:43
THE WILD AND THE YOUNG – 04:20
WILDEST DREAMS – 05:43
LONG LIVE ROCK – 05:34
THE CRUSADERS OF DOOM – 08:01
TRUTH AND LIES – 04:48
BEYOND THE LIGHT – 07:45
SLAVES ON THE RUN – 05:13
FOLLOW THE SUN – 05:12
TOWER OF BABYLON – 09:50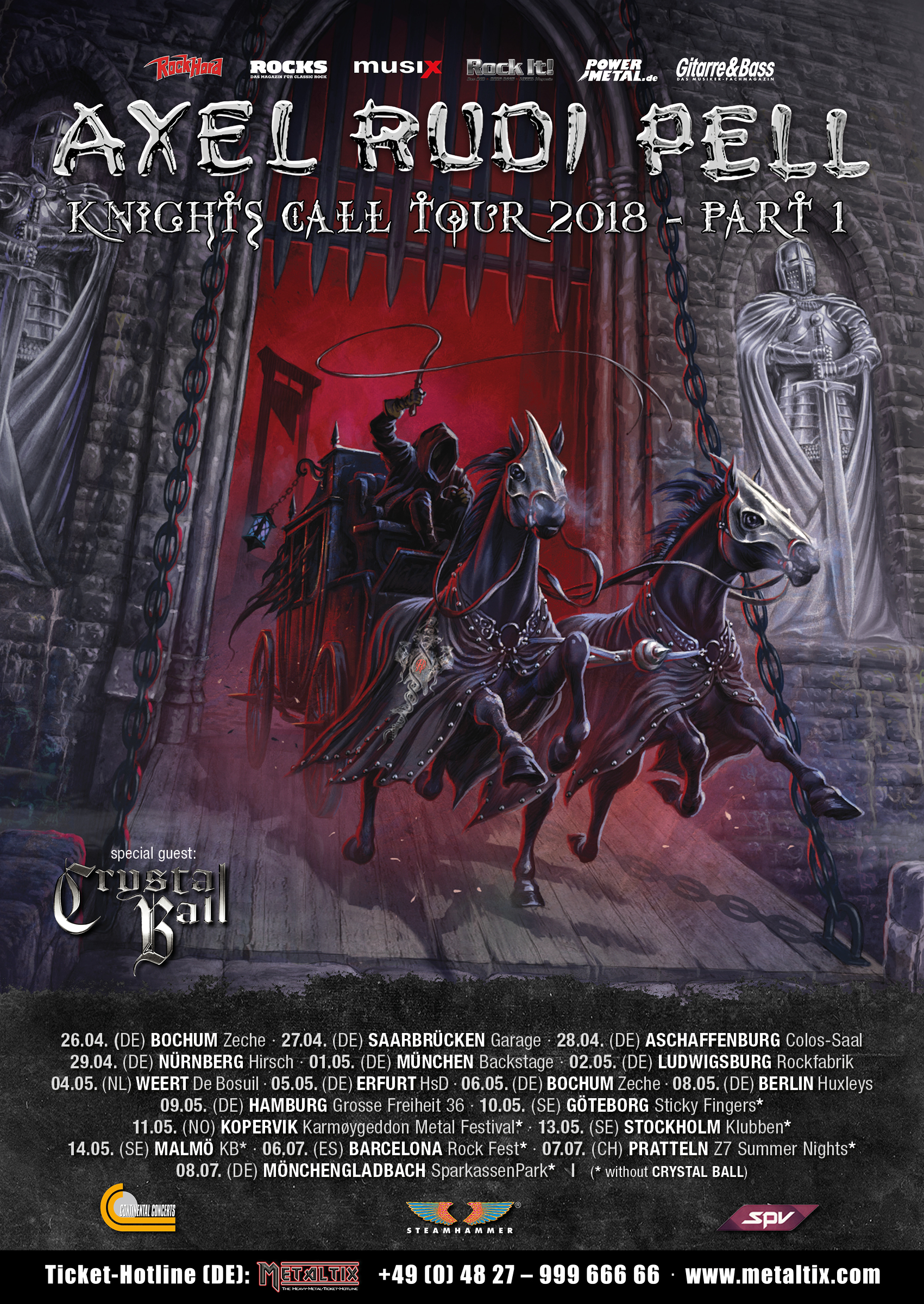 AXEL RUDI PELL – FIRST TOURDATES FOR 2018 ANNOUNCED !
Ladies and Gentlemen, Brothers & Sisters… Here are our first dates for 2018 and the presales just started ! You know that our shows are selling quick, so go and get your tickets NOW before it will be too late ! For the first time we will play in Norway and Sweden too and of course we will play in my "Living Room", the Zeche in Bochum, again… 2 times !! Before you scream "Hey, you are not coming to my hometown !!!"… please wait….the tour will continue in the summer and the fall of 2018 ! Of course we will play a brand new program, as our next album will be out before the tour starts ! We are excited and hope you are too !!!