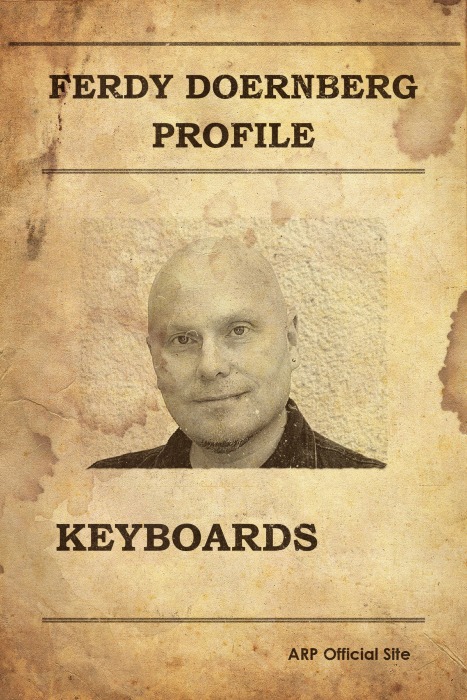 NAME:
Ferdy Doernberg
INSTRUMENT:
Hammond-Organ & Keyboards
PLACE AND DATE OF BIRTH:
10.6.1967 / Bad Hersfeld
FORMER BANDS / PROJECTS:
Rough Silk, Matt Gonzo Roehr, Uli Jon Roth, Taraxacum, Roland Grapow, Ferdy Doernberg & The Men In Black, Ferdy Doernberg Solo and a lot of work as a studio musician
MUSICAL INFLUENCES:
Billy Joel, Bruce Springsteen, Bryan Adams, Jon Lord, Elvis Presley, John McLaughlin & Mahavisnu Orchestra, Bob Dylan, Randy Newman, Metallica, Waylon Jennings, Cock Sparrer, Dr.John, Harry Connick jr., Böhse Onkelz, Steve Earle, Henry Rollins, Slayer, Agnostic Front, Morbid Angel, John Wesley Harding, The Beatles, The Rolling Stones, Cannibal Corpse, Sick Of It All, Testament, Iron Maiden, Willie Nelson, Johnny Cash, Dire Straits/Mark Knopfler, Bon Jovi, Brad Paisley, Vince Gill, Jeff Beck, Todd Snider, Jean-Jacques Goldman, Keb´ Mo, Jackson Browne, Cockney Rejects, Last Resort, Allman Brothers, Jason & The Scorchers, Bob Wills, Queen, Kiss, Townes van Zandt, Ramones, John Lee Hooker, The Hooters,George Strait, Stefan Waggershausen, Rose Tattoo, ZZ Top, Chris Isaak, Dr.Hook, Pantera, Social Distortion, The Eagles, John Cafferty, Night Ranger, Yes, Pink Floyd, Stomper 98, Lee Roy Parnell, Stoppok, Hank Williams ( sr + jr ), Boston, Huey Lewis & The News, Asleep At The Wheel…… (but there´s so much good music out there!!!!!!)
TOP 5 ALLTIME FAVORITE ALBUMS:
Hard to say – too many to mention just 5!!